Star Wars: The Rise of Skywalker Blu Ray +Digital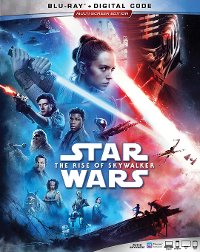 Overview
You can count on RC Willey to have great deals on your favorite movies and the latest is Star Wars: The Rise of Skywalker!
When it's discovered that the evil Emperor Palpatine did not die at the hands of Darth Vader, the rebels must race against the clock to find out his whereabouts. Finn and Poe lead the Resistance to put a stop to the First Order's plans to form a new Empire, while Rey anticipates her inevitable confrontation with Kylo Ren.
Warning: Some flashing-lights scenes in this film may affect photosensitive viewers.
Special Features Includes: [BD Bonus Disc + Digital Extras] Aliens In The Desert|[BD Bonus Disc + Digital Extras] Cast Of Creatures|[BD Bonus Disc + Digital Extras] D-O: Key To The Past|[BD Bonus Disc + Digital Extras] Pasaana Pursuit: Creating The Speeder Chase|[BD Bonus Disc + Digital Extras] The Skywalker Legacy|[BD Bonus Disc + Digital Extras] Warwick & Son